The Delhi Metro is the lifeline of our very own Delhi and NCR. Delhites have a separate life with Life in a Metro. It has surely made the traveling cheaper and convenient in a way but at some point, it's really hectic. The Delhi metro travel is a unique experience in India and there is a lot more you can learn from it. There are many pros and cons of Delhi Metro.
Life in the Delhi Metro Travel: The Perks and The Mischiefs!
Though Delhi Metro travel made our lives much easier but with every advantage there comes a disadvantage. Similarly, life in a metro has it's mischiefs also. Here are 7 blessings and blights of the Delhi metro travel.
1. No Traffic Jams but You Need to Push Your Way Through
Metro rescues from the traffic jam on roads. What takes you one hour through roadways, metro can get you there in 20 minutes. It moves around smoothly under the ground. Though it gets you off from the busy roads, but here you have to face the human traffic inside. Just like you push your life ahead, similarly, you have to push your way through Rajiv Chowk, Mandi House, Yamuna Bank, etc.
2. Cool Air Greets You but with a Tacky Smell
The a/c in the metro feels like a pond in the dessert. Think of the winters and the human warmth is rather welcome. But, how can you forget that sticky and tacky feel inside the full flooded metro? While there is no space to breathe, even 10 minutes travel feels like an hour of suffocation.
3. Ladies Coach- "Just One Ladies Coach"
For the convenience and safety of the female passengers, the Delhi metro came up with the idea of ladies coach. A separate coach for women only. But, I need to ask one question! Who is the person, that underestimated the population of ladies? I mean providing just one coach to ladies, how is it fair even!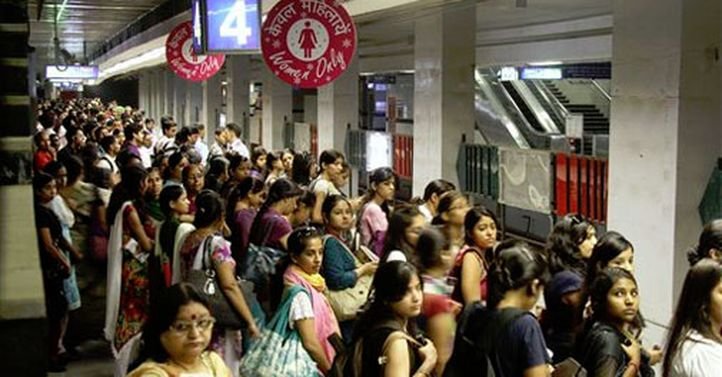 You might have heard people saying that though metro has given a separate coach for ladies then don't know why they board in the other coaches too. Dude! It's not the fault of the female passengers that some so called very intelligent person didn't think about the population of the ladies.
4. Lazy Can Travel Easy but Sometimes Learn to Reject Your Laziness As You Might Not Get Seat
A/C compartments, well-equipped coaches, proper seating arrangements, everything is so perfect while traveling in the metro. You get in, put your music on, flow with it and hey! HERE IS YOUR DESTINATION. Even the lazy can travel easily in the metro. However, there is a tough competition as you walk in for the seat. You might not get a seat every time.
5. Dilli Darshan Without a Hole in Your Pocket but the Flow of the Crowd Can Spoil Your Clothes
You can travel in the metro by spending the amount less than the price of a bottle of coke. The maximum fare of Delhi metro travel is Rs. 30. You can have whole Dilli Darshan within Rs. 30, i.e. without a hole in your pocket. However, the crowd inside can get in you in a state of torn clothes. The struggle of standing still in the metro is way hard than anything.
6. Less Time Consuming but Be Prepared for the Unforeseen Delay
Definitely, Delhi metro travel saves you a lot of time. But, there is always a condition and that is you should leave early from home, otherwise, there will be two condition- 1. You will have to leave several metros in order to get the space to stand even. 2. You will have to be prepared to face the unnecessary delay at any station. Moreover, sometimes metro have a tendency to stand at the outer of the station, and trust me that's really irritating!
7. Sacrificing for Others Might Be a Pride but One Mistake Can Get You in Trouble
Sacrificing your seat to any needy person can make you feel so good. It gives you feel of a savior, isn't it? But, even if by mistake you crushed someone's feet, trust me you will be the biggest criminal on the whole earth.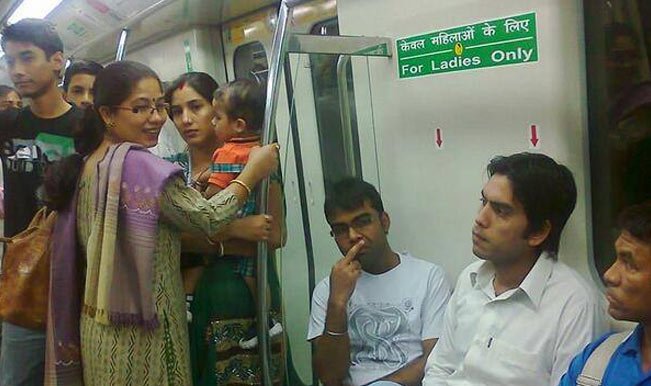 Buzz the comment section with your experiences and opinions over Delhi metro travel.