"Fuck you all." never said the air hostess to anyone. But we all know how badly she wanted to. I mean cmon, a few hours with complete retards is not an easy task. What would you have done had you been in her place? The difference between what the air hostess says and what she really wants to say is all in her head. The flight attendant life isn't as rosy after all.
What if we told all the air hostesses to speak nothing but their mind on an Indian flight? I am sure that 'vimaan experience' would be the worst for the passenger but best for the air hostess. Lets find out how.
1. When she welcomes you
What they say: Hello Sir! Welcome on board.
What they really want to say: Why the fuck are you even here? Can you get off, please?
OR
Judging people left and right. She seems okay; she looks sick, he's gonna irritate and sooo on.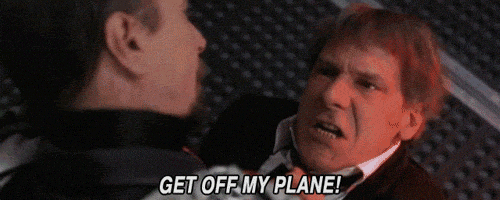 2. When some Kid is crying
What they say: Awwww such a cute baby! Here is your coloring kit, please don't cry baby! Awwwwws (10 times)
What they really want to say: I am obliged to call you cute, but you so are NOT. Thanks for ruining my flight time. Also, GROW up.
3. When drunk uncle asks for the 10th Drink
What they say: Sure sir, would you like rum whiskey or vodka? We also have beer.
What they really want to say: This is your 10th drink in a 5-hour flight. Bloody drunkard.
4. When she makes the safety announcements
What they say: "Ladies and gentlemen, I'd like to direct your attention to the television monitors. We will be showing our safety demonstration and would like the next few minutes of your complete attention."
What they really want to say: This aircraft has 2 doors I want to jump off from because my modeling career did not work out.
5. When you ask her for water
What they say: Sure ma'am! I will just get it for you. 2 minutes.
What they really want to say: Hah! I will say I will be back in 2 minutes but fuck you, I will take at least 10 minutes or forever to come back.
6. When someone presses the bell
What they say: How can I help you, ma'am?
What they really want to say: Speak all the bullshit you can, bitch.
7. When you are leaving the aircraft
What they say: Thank you, ma'am! It was a pleasure to travel with you. Hope to see you soon again.
What they really want to say: FUCK YOU. FUCK YOU TOOO. I HATE YOUR CHILD. YOU FARTED. I HOPE I NEVER SEE YOU AGAIN.
So now you know how to become an air hostess, right? It's simple. NEVER speak your mind.
And, what courses to take to become a flight attendant? Of course, the course of patience.
The air hostess lifestyle isn't as simple as it seems. The next time you travel on an airplane, don't trouble them as much because you know of the air hostess problems.
Also Read: 7 Things That Perfectly Sum up the Differences between Flying Economy Class and Flying Business Class