Saying no to a guy who likes you seems pretty hard. Especially, when he is not at all ready to back off. But knowing different ways to say no to a guy  is important as hell. I know it is difficult and you'll feel that it will be too rude. So, let's keep it all in a thoughtful and sympathetic way. Here, I am going to arm you with all the difficult rejection situations and how to reject a guy real quick. Got it all sorted!
How to Reject a Guy In Different Situations
When a guy asks you out, whom we do not like that much, the whole situation gets fucked up. The only question that pops up in your mind is "How to reject a proposal without sounding rude?" You might be thinking that a simple rejection text message will work. But, are you sure about that?
1. Phone Escape
Situation: A guy is on your face asking you to think a lil' serious about him. And, you are all denial in your mind.
Rejection Escape: Just use the phone in your hand and pretend as a call. You need that immediate escape and time to think. Just pretend like getting a call from home and leave asap.
2. Become Daddy's lil' Girl
Situation: The guy is around you like a hawk and you want quick feel of liberation.
Rejection Escape:  Just tell him all about your dad. Actually, tell him about someone else's dad if needed. Tell him how he works for police or some secret anti-lover gang.
3. The Engagement Effect
Situation: Sitting on the table and you know he is going to ask you 'that' question. You know that proposal is almost on his tongue and you wish to put paper in his mouth to stop.
Rejection Escape: Use some jewelry, girl! Just switch that loop to your ring finger and pretend to be engaged.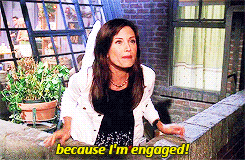 4. Hang Him A Bit
Situation: He is asking you about the reasons of not accepting him. Obviously, you do not want to sound rude.
Rejection Escape: Play some hang man. Just keep him hanging for sometime. Go to washroom and never comeback. Generally, guys hate waiting and will subtly get the answer.
5. Tell Him That You Belong To Anti-Love Group
Situation: You simply can not. You tried it. Passed it, told him, and he is not getting it.
Rejection Escape: Telling about your anti-love family roots is important. If you think you need someone else's family roots, then please borrow them for sometime. Just tell them how love marriage is still not acceptable in your hometown or how people over there cut heads of the lovers.
6. Change Yourself
Situation: He is asking you as he likes you. He likes everything that you do and how you carry yourself. You are the perfect girl for him.
Rejection Escape: Change it! If he likes you being a tom boy, just become a girly girl. If he likes your fragrance, make him smell your sweat. If he is into girls who are not outgoing, then become the girl who can't stay home. Do it for sometime.
7. Sexuality Confusion
Situation: He likes you and loves you and is ready to fight with anyone for you. He does not care if you belong to some old-fashioned family or have a Hitler brother.
Rejection Escape: It is a difficult situation. Agreed! Just tell him that you are not interested in boys. Pull up the lesbian role.
8. Hoax Preferences
Situation: If the guy you trying to avoid is someone sanskari or too cute to say 'no' to, then, this one is for you.
Rejection Escape:  You can tell him that you are really nice and you are all up for the dating stuff. But, slowly tell him that you like that wild and kinky stuff. Let him know that you are not his type.
9. Sick Game
Situation: You tried all? Still wondering what to do? Let's see if this helps.
Rejection Escape: What do you do to get that leave at work? Which excuse always work? Yes! Try the same with a lil' hyped up content. Tell him that you have some serious illness going on. Let him be worried for his life.
Also read: 9 Ways How Guys Handle Breakups vs How Girls Handle Breakups