Dirty dancing, tequila shots, sex talk, hitting on random guys and hangover blues. Sounds familiar? An all Girl nightout, is it? Like every other girl-only activity, an all girl nightout is also associated with a bunch of "stereotypes."
But are those "stereotypes" setting the bar too high? Some investigation into this? Little, maybe!
All Girl NightOut: Expectations

VS

Reality
What is the best thing about these nights? You can be shameless AF and the more shameless you are, more fun you have. And, of course, you never have enough of these nights- NEVER. 
However, the over-rated night out has over-expectations as well. Let's see what happens when these expectations clash with the reality.
1. The Master Blueprint- Plan
Expectations: The plan is all set, we are going to *some posh name* 5-star hotel.
Reality: Where the hell are we even going? Someone tell me the plan! Are we even going out?
2. Dressing UP
Expectations: I'll dress up and probably look like Kareena Kapoor.
Reality: Damn my hair- so messy, the clothes- not ironed and the heels- I'll fall anytime now.
However, never low on confidence-kaun hai wo jisne dubara mud ke pooh ko nahi dekha?
3. Reaching the place
Expectations: Friend 1: How are we going then? Friend 2: Dad gave me his car to drive down, yay!
Reality: Friend 1: So, how are we going to the venue then? Friend 2: Auto is the only option we have. Or you want to take the local train? Sigh!
4. The Club Routine
Expectations: Dance till the pub closes down. Then dance outside the pub. Dance on the way back home. And then dance after reaching home.
Reality: Dance? Um, I'm busy with *something*. Googles *how to dance with a guy at a club* *how to kiss a guy in a club* and other shit. Oh, my phoneeeee-such good company, you know.
5. Checking you out…ummmm
Expectations: Guys guys everywhere would like totally check me out. who's gonna be the center of attraction? ME!!
Reality: Guys be like- You insignificant little thing, who the hell are you? a.k.a. no one notices you.
6. The After Party
Expectations: Linger on to some random HOT stranger and get laid. Lots of sex with the hottie.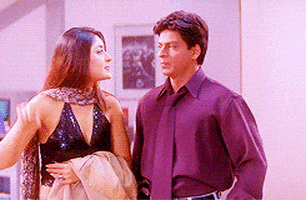 Reality: Girlfriends pulling you home cause you are so drunk you can barely walk.
7. Drinking Scenes
Expectations: I need to maintain my calm, I'll have just 2 or 3 drinks.
Reality: I have had so many drinks, I can't even feel the floor. Oh, so there is a floor?
Still looking for fun things to do with friends at night? LOL!
Still looking for ladies night ideas for bars? Here is a small bubble breaker- It will not be what you expect it to be. Period.
What do you typically do on an all girl nightout? Are your expectations synonymous with reality? How about letting us know of your latest nightout venture in the comment section? C'mon, let all the dirty secrets out!
Also Read: Being 'Summer-Ready' is a Myth – Summer Expectations VS Reality
Writers Pick: These 9 Differences between Your 20s and 30s Are Bang On!