Relationships are unique. There might have been several relationships in your life, but all of them must have been very different from the earlier one. Relationships include fights, jealousy, arguments, faith, tears, and disagreements. Relationships have their own stages. It starts off with infatuation and goes through several stages along the way. So let's take a closer look at beginning of a relationship vs one year later.
Beginning of a Relationship vs One Year Later
1. SEX
 

In the beginning

: Sex is hot, deliciously spontaneous and hot as hell.

One year later

: You gotta make sure it fits around watching Game of Thrones.
2. DATE NIGHT
In the beginning

: Date nights are all moonlight walks and talking about hopes and dreams. You feel super connected with your lover and time just flies.

After a year

: Date night is about coupons and how to avoid getting constipated.
3. Listening to each other
 

In the beginning

: Listening to each other and responding to every gesture to show support and care.

After a year

: Listening without actually listening while watching primetime television & paying no attention.
4. Disagreements
In the beginning

: Disagreements are accepted graciously showing respect for other person's opinion.

After a year

: "Do you even realize that was NAIVE, SO NAIVE!"
5. Complimenting each other
In the beginning

: Everyday started with seducing each other with lovely compliments. 

After a year

: The only real compliment you can expect is 'thanks for making me feel better about my own problems.'
6. Accepting the crazy
In the beginning

: You try to suppress your inner crazy and accept the other person as a whole without any judgment.

After a year

: Every crazy little detail about you will come out in full force. You will look at your partner as an alien from a parallel universe.
7. Boundaries of Shame
In the beginning

: You pretend not to have bodily functions. You are conscious about your body movements and make sure everything is perfect. After a year

: After a year in a relationship, you will be relaxed so that you can fart all day long in front of your partner and not give a damn.
8. Gifts
In the beginning

: Buying thoughtful and cute gifts is a win situation. You just want to surprise your partner with new gift ideas.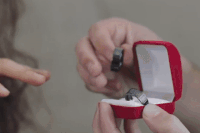 After a year

: Getting the present you actually needed is a sigh of relief. 
9. Comfort Zone
In the beginning

: Being sophisticated and not telling your embarrassing farting scenarios.
After a year

: Being comfortable with each other means the ability to say everything.
Also Read: These 9 Differences between Your 20s and 30s Are Bang On!
Featured Image Source – Creatives by the very talented Philippa Rice